Howes Township farmers frustrated with Farm Bureau and Senate bill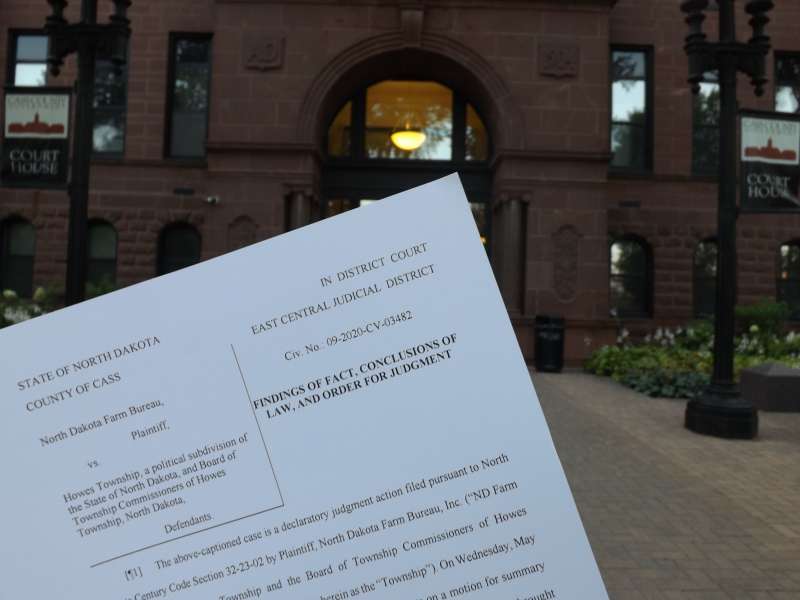 By Laura Simmons
Howes Township is frustrated with a 2019 court ruling and bill that reduced local control, returning it to the state.
The Township of Howes has been fighting the addition of a concentrated animal feed operation since 2016, when it was first proposed. The court's decision in North Dakota Farm Bureau vs. Howes Township was released in late July 2022, siding with each of the North Dakota Farm Bureau's claims, allowing a pig barn to be built closer to the city limits than the Township of Howes wished.
"A pigpen is a pigpen," said Randy Coon, a farmer with land in Howes Township. "They have the same problems wherever they are. They spew harmful chemicals and toxic fumes from their manure lagoon.
Coon said the Farm Bureau was taking sides, citing the 14 Farm Bureau members who were in favor of the Howes Township land rollbacks versus the two Farm Bureau members, Gerald and Randal Melvin, who were in opposition.
Howes Township Supervisor and Chair Ron Fraase said Howes Township is not against cattle. Instead, they want it done the right way, he said.
"(Howes Township) has always obeyed the law," Fraase said. (The North Dakota Farm Bureau) makes us feel like we were doing things wrong.
North Dakota Farm Bureau President Daryl Lies said the North Dakota Farm Bureau supports animal agriculture. He said it would add value, driving up corn and soybean prices due to local demand.
North Dakota lags behind neighboring states in animal husbandry due to regulations, Lies said.
It was a great example," Lies said. "There was a facility that was to be built to raise pigs and it was going to be owned by several farmers and their families. Overzealous regulation drove them out of here and now we don't have that opportunity.
Randal Melvin was one such farmer involved in the proposed facility to raise pigs in Howes Township.
Melvin said he thought of his family when considering starting an animal feed operation. He said it takes about 2,000 acres per family member to be economically viable. The increase in corn, wheat and bean acreage was not sustainable, Melvin said.
"My goal is before the day I die, there will be animal agriculture on our farm," Melvin said. "I can't tell you if it will be in the next two years or the next five years, but we are looking at some options and we are continuing."
North Dakota Farm Bureau attorney Tyler Leverington said there are misguided fears about animal agriculture. He said animal agriculture is much more technologically advanced than it was 30 or 40 years ago. Leverington said animal feeding operations are often underground and use chemicals to keep facilities clean and less impactful.
Leverington said the state legislature made changes based on how animal feed operations look in 2022.
"Townships have the power to impose certain types of regulations on animal feeding operations," Leverington said. "The Township of Howes has gone way beyond the amount of authority they actually have."
One provision of the case centered on 2019 Senate Bill 2345, which states that townships must provide "compelling and objective evidence" to increase the distance of a concentrated animal feeding operation from the city to at 50%. This setback can be overturned by the North Dakota Commissioner of Agriculture and the Attorney General.
The Township of Howes used the 50% setback. Their evidence was deemed unconvincing in June 2020 by North Dakota Agriculture Commissioner Doug Goehring, stating that the evidence was outdated, not township-specific, and contradictory.
Howes Township President Fraase said he was embarrassed by Goehring's decision because he said Goehring had never spoken to Howes Township and hadn't come to see why the site was a problem.
"You just took local control," Fraase said. "We might as well not have the law on the books that has a gap because no one will be able to use it anyway."
Farmer Randy Coon said he thinks looking at objective and convincing evidence isn't really objective. A review of the evidence from Howes Township was conducted by the NDSU. Coon said he didn't think the analysis was objective because the NDSU is in favor of pig farms.
Coon said the evidence should be reviewed by an objective panel that both sides agree is neutral.
"I don't think their (NDSU's) rejection of the analysis was valid," Coon said.
Former North Dakota state senator Jim Dotzenrod said he was originally in favor of the 2019 Senate Bill 2345, which he said sought to restore local control in requiring concentrated animal feed operations to receive local approval before going into the state.
However, Dotzenrod said the North Dakota House of Representatives passed amendments that allow the state to overturn local setbacks if they can't find compelling, objective evidence, which Dotzenrod says is a term without legal definition and therefore in the eyes of the beholder.
"The only thing left locally is setback between residences or occupied buildings," Dotzenrod said. "(The amended bill) took some of it out of the end of the local subdivision and set it aside and gave it to the state, which I objected to."
Dotzenrod said more concentrated animal feed operations are welcome. He said if local support is received then you will have a controversy-free project for many years.
Farm Bureau President Lies said some aspects are best handled at the state level. An example he used was the environment. Lies said the Department of Environmental Quality has expertise and resources that local townships cannot afford.
Lies added that state scrutiny helps keep neighbors and family histories out of decisions.
"If we can take some of that local emotion out of it and base it on science and facts, (then) I think that's the positive of having some of that regulated uniformly at the level of the state," Lies said.
The North Dakota Farm Bureau wants to work with the townships and they want to avoid lawsuits, Lies said. But, Lies added, the North Dakota Farm Bureau must protect people's ability to do what they want with their private property.
Coon said he doesn't think the North Dakota Farm Bureau represents farm families. Instead, he said they represented corporations.
"The Farm Bureau claims they are for local control," Coon said. "They are only meant for local control when it suits their narrative."